In a nutshell…
The UK is home to 17 bat species. The most common is the Pipistrelle, which can eat up to 3,000 insects in one night!
Bats help the environment by controlling pests like mosquitos, moths and beetles, as well as pollinating flowers and spreading their seeds.
They're legally protected in the UK, which means you could get into trouble if your project affects them or their roosts.
So if you think bats might be present on or around your site, you should get a bat survey done early in the planning process. That way, you know what you're dealing with, and can figure out how to work around them.
We can help you with this. Just click the button above.
Want to know more about how it all works? Read on.
Why do you need a bat survey?
UK bats are in decline. Therefore, they're legally protected. By law, bats can't be killed or injured, and their places of rest can't be damaged or destroyed without a bat licence.
You might've been asked by your council for a bat survey to support your planning application. Councils need bat surveys for any roof works or building demolitions/alterations with the potential to impact roosting bats. For bigger sites, potential commuting/foraging habitats will be identified during the Preliminary Ecological Appraisal (PEA).
Bat surveys are necessary if your site has foraging and commuting habitats or potential roosting features for bats. Bats are usually found in residential buildings and, if you don't know what you're looking for, you'd probably never know they were there.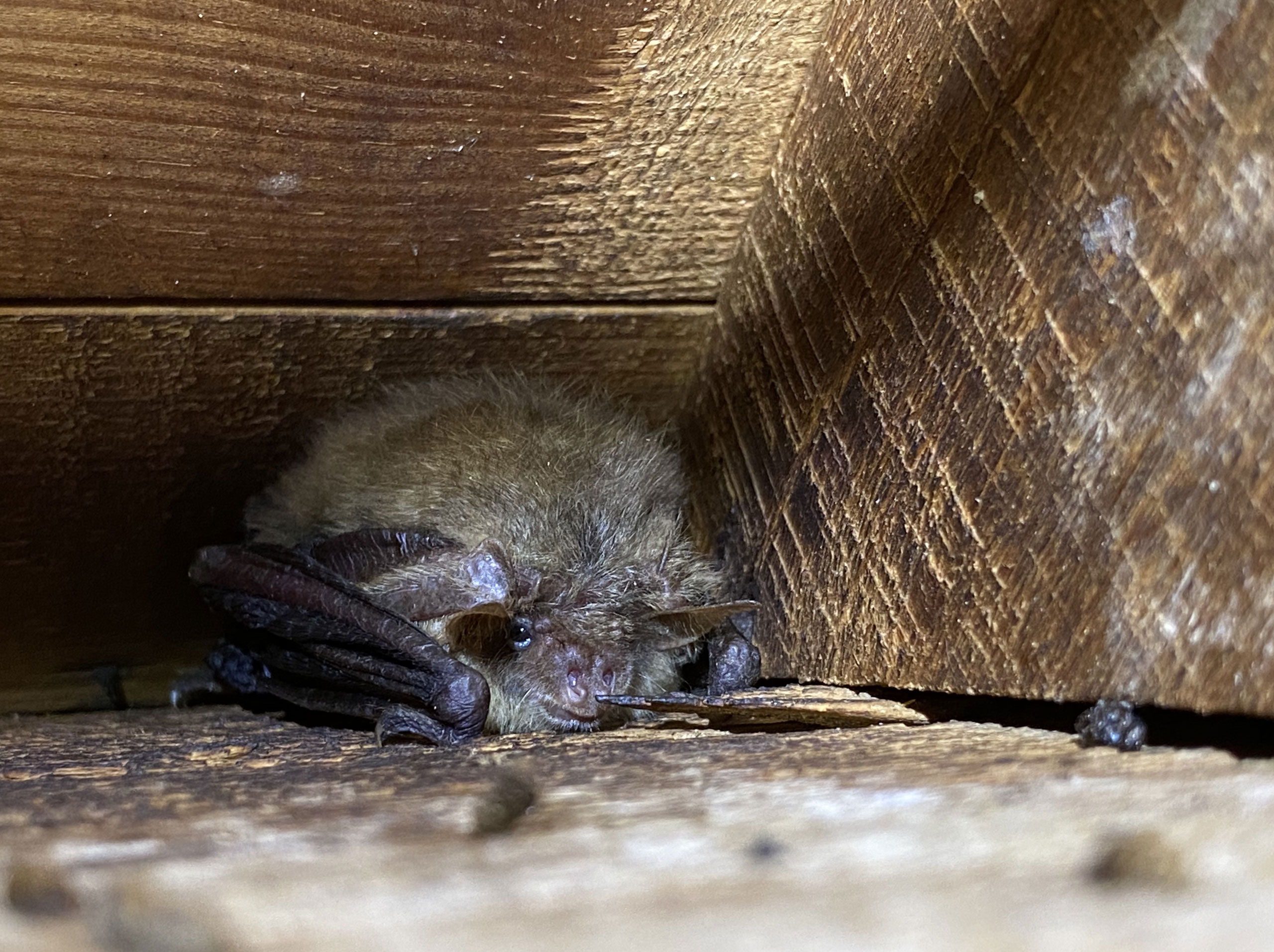 Bat surveys establish whether bats are present on your site. If they are, the surveys will also confirm their species, numbers and the extent of their site use to determine whether your works will impact them.
While Preliminary Roost Assessments (PRAs) can be conducted all year round, Phase 2 surveys are seasonal (May – September), so we recommend getting in touch with us as early into your project as possible. That way, we can ensure your surveys are booked in with enough time for all survey visits to avoid delays to your project.
From our offices in Dorset, Surrey, Bristol and Cornwall, we are able to provide bat surveys across most of Southern England, so contact us today to discuss your project.
What do bat surveys involve?
For projects where a roost is suspected, bat surveys involve two stages: a Preliminary Roost Assessment (PRA) and Phase 2 Emergence surveys. If your site contains suitable foraging or commuting habitat which may be impacted, Phase 2 Activity surveys will be required.
Here's what's involved:
Preliminary Roost Assessment (PRA)
Site visit – the first step in assessing a site for roosting bats. One of our licensed surveyors will undertake internal and external building and habitat assessments. This involves an extensive search for small gaps potentially used by bats – like under roof tiles or lifted lead on buildings, or rot holes in trees – as well as evidence of their presence, including droppings and staining. We'll need access to any loft voids, cellars and outbuildings affected by the proposed works. If your PEA or PRA identifies trees with roosting potential that'll be impacted by the proposals, an Aerial Tree Assessment (ATA) will be required. Darwin Ecology has several qualified tree climbers who can help you with these surveys.
Report – after our visit, we'll write a report outlining our findings. We'll assign a level of potential for your building/s, and suggest further Phase 2 emergence surveys if required. There are four levels of bat potential, each requiring a different number of Phase 2 emergence surveys. If your buildings are deemed to have Negligible potential at this point, no further surveys are required and the report can be submitted for planning.
Phase 2 Emergence Surveys
If any of your buildings are classified as having Low, Moderate or High potential (or a confirmed roost) at the PRA stage, up to three bat emergence surveys may be required. These are intended to confirm the presence or absence of bats, and are used to support your planning and licence applications. They involve a team of ecologists using specialist equipment to detect, record and identify any bats while observing the structure for two to three hours at dusk or dawn. This is done between May and September.
Phase 2 Activity Surveys
If your site has Low-, Moderate- or High-potential habitats for commuting/foraging bats, different levels of survey effort will be required. The survey itself involves two parts:
Transect Survey – Two surveyors walk a pre-determined transect route around your site for about two hours (after dusk) with a handheld bat detector. The surveyors record any and all bat activity observed during the survey, and map the results.
Automated Detector Survey – To supplement the transect survey, a number of automated bat detectors may be strategically placed around your site – in hedgerows, for instance. They remain in situ for up to two weeks, recording the echolocations of bats overnight. The detectors are then collected and the results analysed using specialist software.
Report
After the Phase 2 surveys, we'll provide a report suitable for submission with a mitigation and compensation plan, as well as recommendations for enhancing biodiversity.
Bat survey work is seasonal and can't be conditioned. Therefore, all surveys must be completed before you go for planning. So get in touch to plan your project around bat season and prevent unexpected delays.
What if we find bats?
Every project is unique. Depending on the size of your site, the number of bats present and the level of impact predicted, we'll work with you to design a mitigation and compensation strategy. This could include recreating roosting features in the building, constructing specialist "bat barns" or mounting bat boxes in trees.
We'll outline our solutions in your report, tailored to your unique project. They may involve:
Obtaining a relevant licence – We're one of the few companies that can apply for the faster and cheaper BMCL (Bat Mitigation Class Licence) for small-scale impacts, as well as the "standard" EPSL (European Protected Species Licence)
Supervised roof strip – A member of our team will provide a toolbox talk and help the roofing team remove bat features
Creating similar/alternative bat roost features – We can install our bespoke and proven bat features on your building with minimal aesthetic impact
Regardless of the survey outcome, we'll work with you to ensure the process is pragmatic and optimised. For examples of previous projects or client testimonials, check out our latest news and social media channels.
Species status and protection
In England and Wales, all bat species and their roosts are legally protected under: the Wildlife and Countryside Act (1981) (as amended); the Countryside and Rights of Way Act, 2000; the Natural Environment and Rural Communities Act (NERC, 2006); and the Conservation of Habitats and Species Regulations (2010).
You'll be committing a criminal offence if you: deliberately capture, injure or kill a bat; intentionally or recklessly disturb a bat in its roost; damage or destroy a bat roosting place (even if bats aren't present at the time); possess, advertise, sell or exchange a bat (dead or alive) or any part of a bat; or intentionally or recklessly obstruct access to a bat roost.
Barbastelle, Bechstein's, greater horseshoe, lesser horseshoe, brown long-eared, soprano pipistrelle and noctule bats are all priority species under the UK Biodiversity Action Plan (UK BAP). They've been adopted as species of principal importance in England under Section 41 of the NERC Act 2006.
All species of UK reptiles are also Species of Principal Importance under the NERC Act (2006).