Background
Shaftesbury-based Abbey School commissioned us to revitalise a pond and wild area on their grounds. It had become overgrown, heavily shaded and poorly maintained.
The pond was silted with leaf litter from overhanging trees. There wasn't much open water anymore, and hardly any submergent or marginal plants remained. And frankly, the area was unsuitable for children.
Our aim was to create an attractive, wildlife-friendly area to be enjoyed by students and teachers alike, and incorporated into teaching – including the facility for pond-dipping.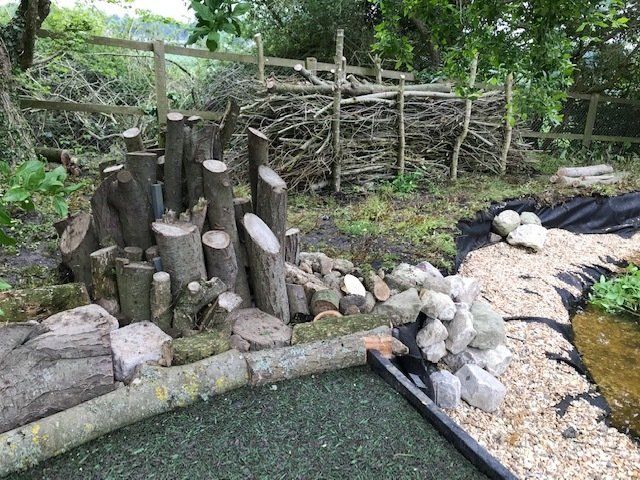 Planning
Working with the school's staff and governors, Darwin Ecology produced a detailed proposal for the pond's restoration and the creation of an educational wildlife area.
As always, we wanted to deliver the maximum possible benefit to wildlife by reusing materials and making use of what was already on site.
Initial works
We began the works in the winter. Following this, we drained the existing pond, and reduced and pollarded a number of trees that were filling the pond with leaf litter and heavily shading the area. We retained all the wood and brash and incorporated it into our designs.
We used larger tree limbs to form naturalistic edging for the footpath. Then we created piles of brash and deadwood around the site's perimeter. These became features of the wildlife area with an attractive, rustic design. Keeping this material on site provides essential habitat for insects that feed on deadwood, as well as shelter and foraging opportunities for amphibians, reptiles and mammals.
Wildlife pond creation
We built a new pond with a natural shape and shelved edges, which provided suitable conditions for a range of species. Then we introduced native aquatic plants and a gravel substrate, and used larger stones to create complex refugia. Finally, we let the pond fill with rainwater, and seeded it with water from existing ponds.
Just weeks after we finished, newts were seen swimming in it!
Wildlife area creation
To one side of the pond, we made a hardwearing pathway from resin-bonded recycled rubber to provide safe access to the pond and dipping platform. Then we laid the remaining area with a wildflower turf containing a species-rich mix of native flowers and grasses. This guaranteed a colourful array of flowers through the summer, providing foraging habitat and nectar for a range of animals and invertebrates.
The project was a success. We had created an attractive, accessible area for children and teachers. Since then, it has hugely benefited local wildlife and allowed children to engage with nature. Now they can observe the arrival of newts, birds washing and drinking from the shallows, and the bees buzzing by the meadow.
Darwin Ecology is an accredited partner of Wildflower Turf Ltd. We have extensive training in the use of Wildflower Turf products and know how to deliver successful and attractive landscaping projects. To find out more about our ecological landscaping services, contact us now.